Have you just stepped into the world of photography? Whether you have plans to become a professional photographer or you've just started clicking aesthetics as a hobby, lenses are an essential aspect of photography that you must have an understanding of.  While we're always here with the best collection if you want to buy or want to find out more about Canon camera lens price in Pakistan, for now, we will briefly discuss some essential lenses. Let's start!
1. Starting Point Lenses
Most entry-level cameras include 18-55mm and 55-200mm lenses, which are ideal for getting started. As your photography skills improve, you'll notice that your "kit lenses" aren't as sharp as you thought. It's time to start investing in better glass at that point.
The 24-70mm zoom — your go-to lens — would be the next step in your development. Purchasing a high-quality lens may appear expensive at first, but it is well worth the investment. This lens is ideal for most shoots, from landscapes to portraits. With this and a 70-200mm zoom, you can cover 95 percent of your shooting needs.
2. Large-Angle Lenses
Wide-angle lenses are popular for shooting landscapes, cityscapes, astrophotography, and just having fun! These lenses give you a broader perspective on the world than you would normally have. They're ideal for conveying the vastness of a landscape, the size of a room, or the view of people at a crowded concert. Fish eye lenses are a type of specialty wide-angle lens that adds an interesting distortion to the subject. The Tamron 15-30 f2.8 G2 is one of our favorite wide-angle lenses. It's razor-sharp, quick, and reasonably priced. Canon 11-24 or perspective control (PC) lenses are excellent for architectural photography. They are specially designed not to distort your image, giving you straight, clean vertical and horizontal lines on buildings.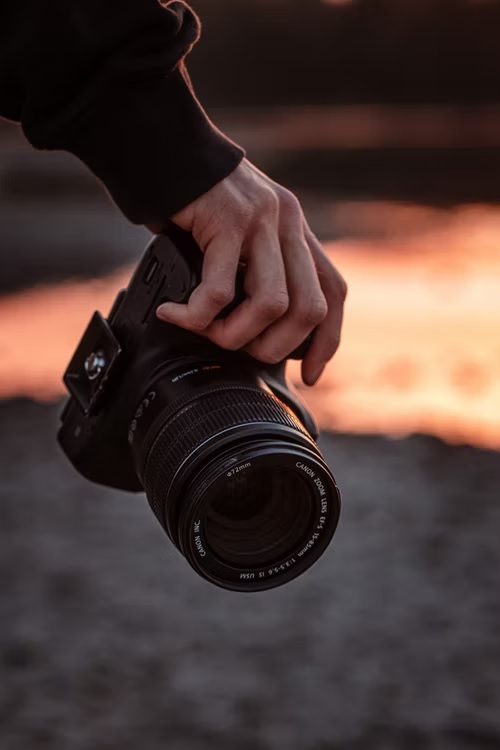 3. Portrait Camera Lenses
For traditional portraits, the sweet spot for lenses is between 85mm and 135mm, or 50mm-100mm on crop sensor cameras. This color palette is very flattering on the human face. The best portrait lenses for digital cameras are the Sigma 85mm f1.8 Art and the Nikkor 135mm f2 for film cameras. If you want to shoot environmental portraits, use a slightly wide-angle lens, such as a 35mm. Tamron makes 35mm and 45mm lenses that are excellent for documentary portraits, environmental portraits, and street photography.
4. Lenses, Macro (Micro)
These specialized lenses enable you to transform a mundane subject into a "out of this world" photograph. Ideal for flowers, coins, and other small items.
Macro lenses capture 1:1 close-ups of small-detail objects. The Canon 100mm Macro and Nikon 105mm Micro are the category leaders. Other than the 100mm and 105mm macro lenses, both brands offer macro lenses, but we love these specific models because they allow you to get a 1:1 shot without having to get super close to your subject.
5. Photography Lenses
Telephoto lenses are the lifeblood of wildlife and sports photographers. If you're going out and want to get close-ups and action shots, bring a monopod or gimbal to take the weight off your arms. Telephoto lenses can be heavy, and waiting for the right moment can be exhausting. The Tamron 150-600mm is the lens we always keep in our bags. The new Canon 100-400mm, on the other hand, is small for its power and tests to be very sharp and fast. If you prefer a specific brand, Nikon also has a good 100-400mm lens.
To Wrap Up:
By keeping these tips in mind, you will be able to select a lens suitable to your needs. Also, if you want to find out more about digital cameras or Canon camera price in Pakistan, you can check our collection.